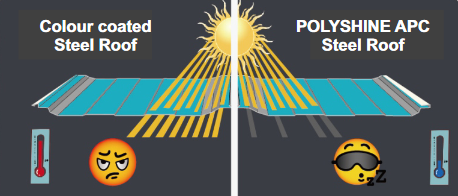 We are the supplier of APC steel roofing sheet, polycarbonate sheet, PUF PANEL SHEET and COLOUR COATED ROOFING SHEET in the eastern zone. When it is a matter of  longevity of  your roof you can obviously trust this product that can give you not only a longer life of your roof, rather a comfort from severe heat than all conventional roofing sheets. 
POLYSHINE advantages of steel and resin, is an innovative material for building systems, providing long service life with high resistance to corrosion, climate and mechanical damage.
Total thickmess of sheet is 0.80mm in which 180 micron Advanced Polymer Coating on top side and 180 micron PVC Coating on bottom side. It reduces 4-5 degree temperature and the inside temperature of the shed become moderate. Minimum yield strengths of G550 (550MPa) complies with AS1397 or IS15961. This coating prevents the base metal of the sheet from Acid and chemical and therefore sheet never get rust and runs longer period. Sheets are available in various colors.
All technical data are mentioned in the brochure. Please download.