Epoxy flooring now a day a well known product/service that known by almost everybody except it's price!  this type of coating are a fantastic choice for those who looks for an attractive solution that is durable, and most importantly safe. Epoxy floors are topped with a specially engineered coating that consists of hardener and resin. The entire costing for the same depends upon the thickness you want to increase and the longevity. A thick quoting definitely give you more life on the floor, but it depends obviously upon the necessity for the same. For Industrial flooring thickness is a matter because there foot and machinery traffic is very high compare to residence.
Therefore, epoxy coating is the ideal solution for spaces that are likely to endure water or chemical spills, heavy foot traffic, machinery traffic, and other activities that would break down less sturdy flooring options.
As far as residential 3D epoxy flooring  is concerned it will give you very stunning look but a little costlier than one colour solid epoxy.
Why you install epoxy flooring
It is durable
It is unique and impressive.
It is economical.
It is slip-resistant.
It is easy to maintain
      Beyond its unparalleled durability, epoxy offers the following benefits:
Reduced allergens and mould.
High aesthetic appeal with ample opportunity for customisation.
Extremely versatile and suitable for use both inside and outside.
Increased light reflectivity by up to 300 per cent.
Environmentally-friendly.
Long lifespan.
Next to no maintenance aside from basic regular cleaning.
Slip-resistant.
Proper cleaning of floor.

Preparing a surface by epoxy resin as primer.

Installing HD quality sticker.

Installing Top coat/clear coat on the sticker

Leave it 24 hours for self level and Cure.

For better longevity you may install one more coat.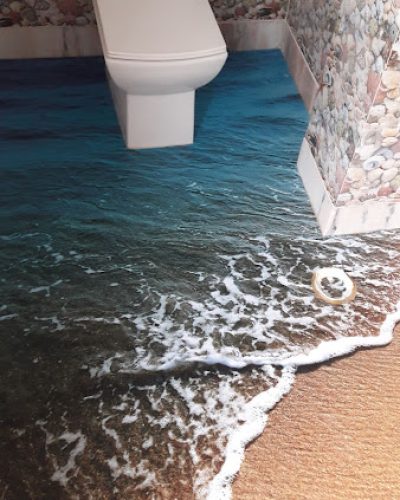 Industrial Epoxy Flooring